Asia's 2nd Biggest Online Olympiad Exams
I am building a bridge
                 The expression not merely focuses on the fact that the guy is creating something, but also talks about his way of expressing his knowledge through practical application. He is exercising what he learnt through books in a real-world scenario. No matter how many lessons he might have taken or how many assignments he may have aced, what mattered at that moment is how accurately he could apply his learning of so many years. Here arises the question of practical knowledge. The Centre for Research and Exams in Science and Technology (CREST) is established by some of the prominent names in education industry. This initiative aims to assess the practical knowledge that would help students to apply their learning in different areas and excel in the same.
#CRESTInnovator
Asia's No.1 Innovative Online Olympiad Exams
We are a firm believer in innovation and it reflects in our CREST Olympiads Exams. If you're bored by answering the same set of questions in the Olympiad Exams that makes you feel like not giving Olympiad Exams anymore, then you are at the right place!
Test your knowledge of subjects concepts by taking CREST Olympiads Exams. The set of questions framed in the question paper requires your innovative approach, creativity, imagination, clear understanding of concepts, etc. to solve the questions in the exam. The main vision behind this is to expand the thinking ability of students to make them capable to come up with futuristic solutions for today's problems.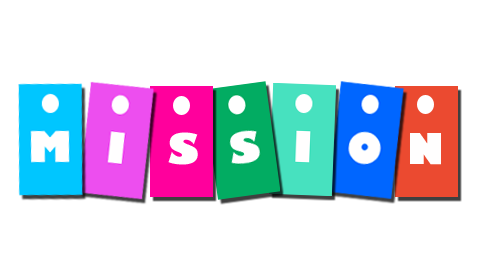 CREST Mission
We need to understand that a child's personal mode of learning is in fact through experiencing what is happening and recognising things through practical questions or application of the knowledge that they have gathered by learning, through schools, parents, peers, etc. This makes the child enhance their speculative knowledge and they are able to judge in accordance to the facts. The child's practical knowledge paves the way of knowing about different subjects and letting them dig deeper into the subject which is difficult to go through theoretical knowledge.
CREST strives to:
keyboard_arrow_rightAsk questions that will force the students to think deeper for the answers and the question will expose their practical knowledge.
keyboard_arrow_rightBuild competitive spirit among students so that they always try to achieve better.
keyboard_arrow_rightEmbrace the power of digital technology for writing exams.
keyboard_arrow_rightEncourage students to go for practical knowledge in Olympiads rather than rote learning in school.
keyboard_arrow_rightBuild a foundation for different competitive exams like JEE, NEET, etc.
Give wings to your child's innovation with CREST Olympiads
We proudly say we are taking innovation far beyond for students through the medium of these Olympiad Exams. For the same reason, CREST Olympiads is the No.1 in the innovation among all the Olympiad conducting organizations across Asia.
Here's a catch, who are we to claim ourselves No. 1 in innovation? Well, it's not us, it's our lovely customers who have to say this.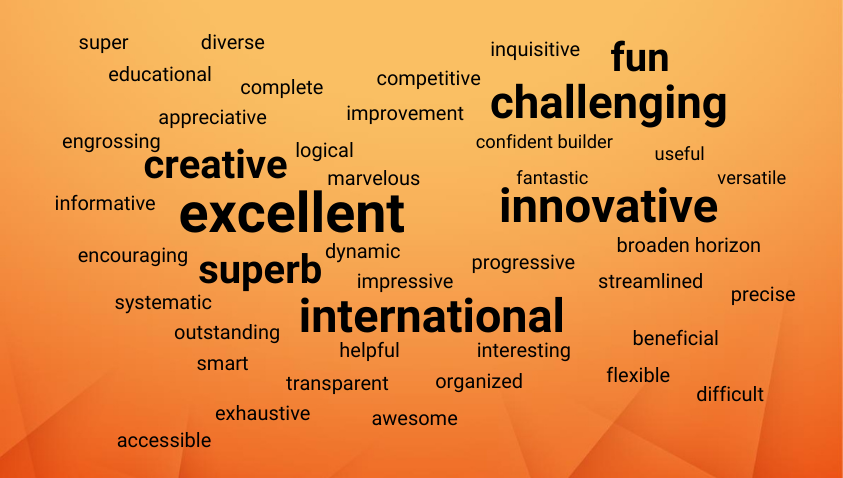 We did a small survey and to our surprise, we got these amazing results from our lovely customers. The word cloud image to the left shows how customers define CREST Olympiads in an adjective(s). By looking at the image we can clearly conclude we focus on the premium quality, test logical ability, practical knowledge, thought-processing, etc. in the CREST Olympiads Exams. We are here to create the innovators of tomorrow.


Inspiring to be Innovators of tomorrow with the CREST Olympiads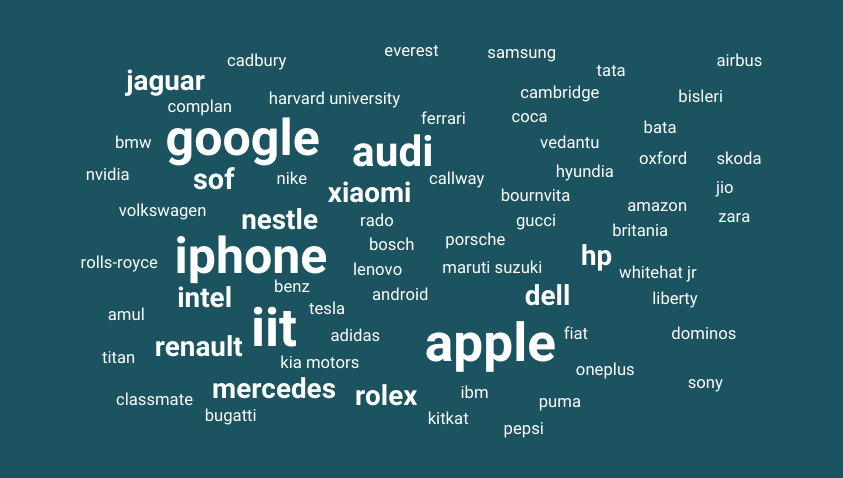 The word cloud image to the right shows brands that people associate with CREST Olympiads. Few of them related us to Porsche, some to Audi, many to Jaguar and so on. You just name a premium or luxury brand and it's there. Well, we know, we are a premium brand, but it's never a bad idea to hear good things about you from someone else. The quality of premiumness is always found in the CREST Olympiad Exams.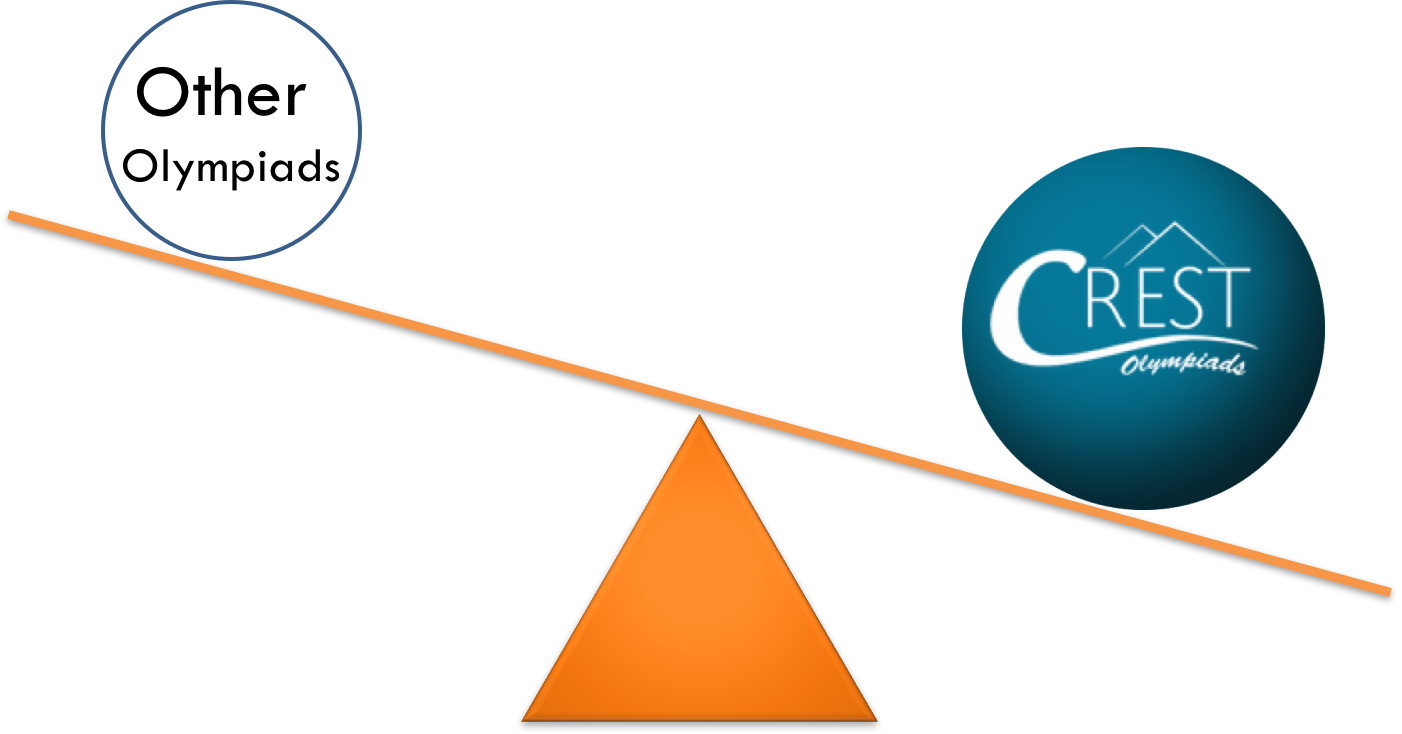 CREST Olympiads is a pioneer in its focus to help students become well-rounded individuals who can think critically about problems from multiple perspectives with a strong emphasis on conceptual knowledge. These Olympiad exams are trying to break the typical stereotype around conventional Olympiad exams.
| | | |
| --- | --- | --- |
| | Traditional Olympiads | CREST Olympiads |
| Mode of exam | Pen & paper | Online |
| Date of exam | Fixed | Flexibility provided to students to choose a date |
| Type of exam | A mix of theory & practical | Focus entirely on conceptual understanding and discourage rote learning |
| Application to exam | Typically through schools | Encourage individual as well as school participation |
| Preparation | None | Two (2) complimentary practice exams |
| Access to Olympiad organization | Generally not available | Invite parents & students to write to info@crestolympiads.com for queries & continuous feedback |
Be a part of Innovation Revolution with CREST Olympiads